An Opera for the Internet Age
The Story
In an attempt to save a forgotten and sadly deteriorated fresco of Jesus, an elderly woman in Borja, Spain, tries her hand at its restoration only to make matters worse. Outrage is rampant and threats are made. Even the ghost of the fresco's original artist gets into the act. Swept up by social media the story becomes an internet sensation, drawing tourists from around the world, helping restore the woman's reputation and revitalizing the economy of the struggling town.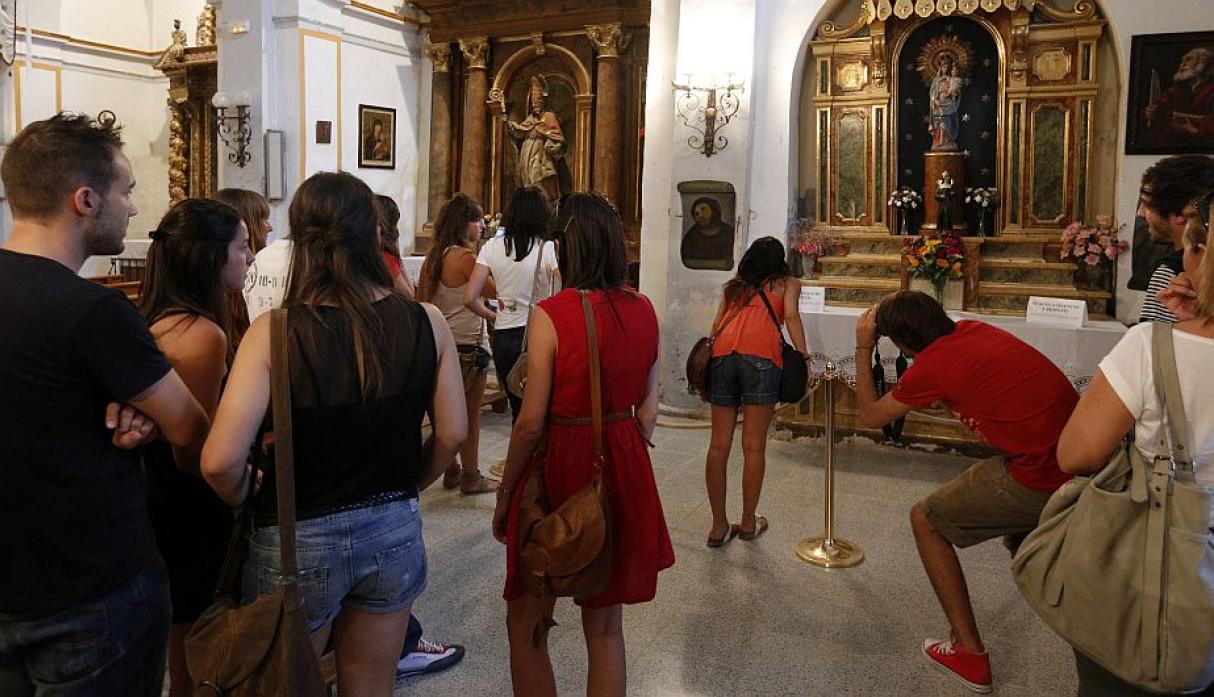 Paul Fowler, Composer
Sourcing materials parsed from the world's spiritual traditions and natural beauty, Paul Fowler's music will "work on you from the inside out" (Philadelphia Inquirer); invoking our shared human experience. Fowler draws from his regular work as a classical vocalist, improvising pianist, performer, and electronic musician to integrate old and new into "emotionally intense" (Washington Post) works which are "radiant, ghostly and shimmering" (New York Times).
His works have been performed at Carnegie Hall, the Kennedy Center, Park Avenue Armory, Suntory Hall, and National Concert Hall of Taiwan among others. Commissioning ensembles include The Crossing, Ars Nova Singers, Symphony Orchestra of Northwest Arkansas, San Juan Symphony, New York Youth Symphony, Hope Mohr Dance, and Boulder Ballet. Fowler is the Artistic and Executive Co-Director of 3rd Law Dance/Theater.
Andrew Flack, Librettist
Dramatist Andrew Flack writes for the stage, television and film. Andrew's comedies Every Other One, Naguibagua and Ooma's Ladder have been produced in New York City and across the USA.
His first collaboration with Paul Fowler, the 2009 musical, I Go On Singing, Paul Robeson's Life in His Words & Songs, continues to tour performing arts centers and universities. Flack has also written five feature-length screenplays and his black comedy thriller, Corkscrew, was optioned by Emmy Award winner Lynn Hamrick Productions.
Andrew was a founding partner of Buzz, Inc., a PR, marketing & communications firm with a client-focus on architecture, food and the arts. His television pilot, Food Freaks, co-written and produced with Andrew Zimmern, would later morph into the Travel Channel's hit series Bizarre Foods.
Barbara Duff, Producer
As the daughter of world-renowned Cleveland Orchestra timpanist, Cloyd Duff, Barbara learned of music's powerful draw at an early age. After college, she lived in New York City working as an actor in film, television, and on stage. She appeared in hundreds of print, TV and radio commercials, and was featured in The Verdict with Paul Newman and James Mason, Ghostbusters with Bill Murray, and The Money Pit with Rodney Dangerfield. As one of the original members of the 29th Street Playhouse she produced Andrew Flack's Naguibagua.
Upon leaving New York she entered the marketing and public relations sector, specializing in the organic food industry, the arts and cultural. She helped launch the television career of Andrew Zimmern, of Bizarre Foods fame, and later managed the career of Native American flutist and 2-time Grammy Award winner Robert Mirabal.